Tracks
IoT enablers covers all important building blocks that make working with Internet of Things possible.
Smart cities covers all themes and sub-themes that will show us how the cities of the future will look like.
Smart living emphasizes the integration of IoT-components in applications for houses, offices, industry, payments, security and so on.
Health care is being featured by the use of mobile, medical applications and 'wearable devices'.
Smart Factory
CETIC presentation
In the IoT Enabler session, Philippe Drugmand presented the status of adaptive routing and mobility for Wireless Sensor Networks (WSN).
Summary: The expansion of Internet to connected objects gave birth to the Internet of Things (IoT). These connected objects belong to various application fields such as eHealth, Home automation, Industry, Agriculture, etc. To be efficient, IoT relies on adapted Wireless communication. Sensor networks must be pervasive to tackle reliability, mobility in intra- and inter-domain or energy management (autonomous nodes). Efficient sensor networks must accordingly take advantage of intelligent and adaptive routing strategies. The presentation will be illustrated with 6LoWPAN as a network technology, which connects the sensor networks to the Internet, and RPL as routing protocol.
Demonstrations on the CETIC booth
Two demonstrations on the CETIC booth illustrated how adaptive routing algorithms can be used for smarter WSN, e.g. in front special mobility issues or for a global - at network level - optimisation of the energy consumption.
The first demonstration showed how redundant border routers can efficiently implement fault tolerance in Wireless mesh networks, but also in this case, can simulate the handover of sensors in case of macro mobility (inter network mobility). The demonstration relies on 6LBR, the border router for 6LoWPAN WSN developed by CETIC as an Open Source component for fostering the development of 6LoWPAN, the new short distance Wireless standard for IoT. For the demonstration, the user can provoke the handover by switching on a button and follow the routing update through a topology map reflecting the real-time state of the routes between sensors.
The second demonstration illustrates the intelligent routing management in a mesh network composed of nodes being powered by photovoltaic cells. According to the time of day, the sensors may be alternatively in shadow or sunny area. In order to preserve the autonomy of sensors, the ones that go in the shadow are not more used for routing but as end nodes to limit their traffic to their own data notification, the routes being recomputed with other routers.
The demonstration uses the Foren6 tool also developed as an Open Source component by CETIC to sniff the radio (802.15.5) traffic and graphically present the topology of the network in real time.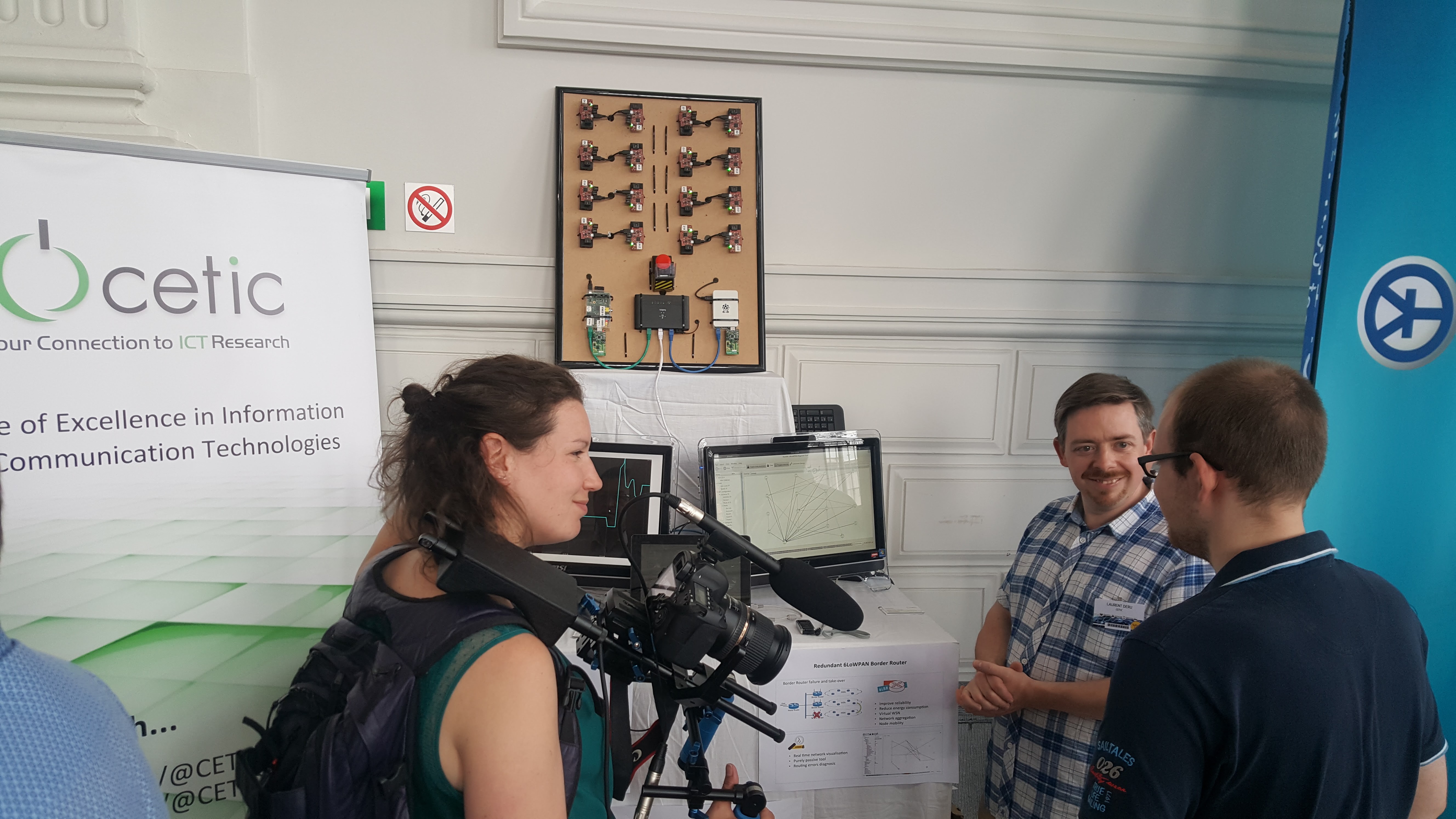 Practical information
June 8th 2016, 09h30 - 18h00
Hôtel de la Poste, Avenue du Port 86C, Brussels
Free entrance (registration required)