REGIOSTARS awards 2021
The FEDER "IDEES Proofs of Concept" project of CETIC was selected among the 25 finalists (out of 214 applications!) of the REGIOSTARS Awards.
The specificity of this project is to work on digital technological innovation, while anticipating from the beginning the need to translate it into visible results (proofs of concept) that companies can appropriate.
As part of this REGIOSTARS campaign, you are invited to vote every day: support us, and share this information!
How to cast a vote for CETIC?
Go to the website https://regiostarsawards.eu/. Choose the "SMART Europe" category. Then, you will see below the 5 finalist projects of this category and you click on the small heart next to the project "IDEES - Proofs Of Concept". You can vote once per day until November 15th.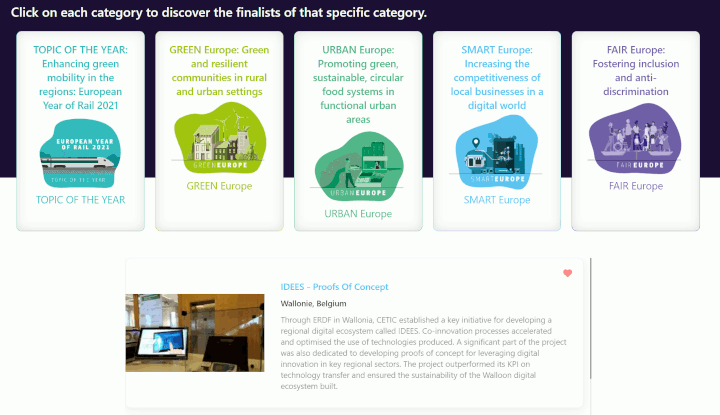 What are the Regiostars Awards?
The REGIOSTARS Awards are a yearly competition, organised by the European Commission's Directorate General for Regional and Urban Policy. It aims at identifying good practices in regional development and highlighting innovative, EU-funded projects, which could be attractive and inspiring to other regions and project managers.
Want to know more?
CETIC is preparing several publications to explain the interest and impact of ERDF programs; outline the strategy of the IDEES project which has caught the attention of Europe, and describe the industrial pilots and collaborations that have resulted.