Truck owners face many challenges today: a high level of competition, ever rising fuel costs, legal constrains (euro4, euro5 norms). Trucks are more and more sophisticated, but the driver remains the key for its optimal use.
Key Driving Competences (KDC) is a company active in the field of professional driver training. They are specific in their approach based on the promotion of Human Resources and their way to validate results through the use of telematics. Based on that, Key Driving Competences offers the following challenge to their clients : a cost reduction by reductions in fuel consumption, maintenance costs and insurance.
Need
To achieve this amazing result, the training method has to be innovative and based on quantifiable driving parameters. Thanks to a perfect knowledge of the technical functioning of trucks, KDC had the necessary expertise to understand the causes of over consumption. They were only missing an objective measurement, systematic evaluation criteria and a tool to measure the driver's performances during the training.
Concretely, KDC was searching for a system able to collect information on the CAN bus of the vehicle (speed, position of the accelerator pedal, braking...) and give an advanced report on the driver's driving behavior. This system would be used for training and also for monitoring (before and after the training so that the results are clearly visible). These results have to be transferred to the final user (the trainer for example) and be displayed comprehensibly on a computer, preferably directly after the training.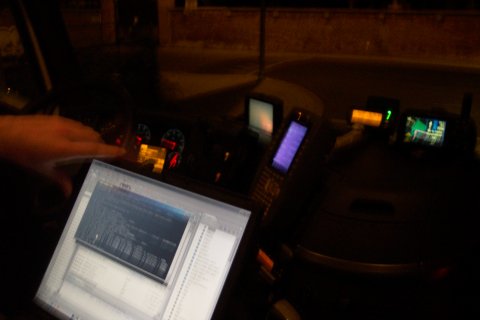 Solution
Based on technical developments achieved by the Electronic Systems team, CETIC has been able to propose a solution meeting KDC's expectations. An embedded monitoring system, based on the SAND platform has been built to become the trainer's indispensable source of information.
Thanks to the CAN, WIFI and GPS peripherals, to its computing power and large embedded storage, all the functions allowing an objective measurement of driving parameters and driver's performances could be implemented.
Data acquisition and all computation are made in real time and stored on board. Data can be accessed in real time inside the vehicle through a WiFi connection. Data acquisition can either be automatically triggered on a specific trip for using the same reference or be turned on all the time.
At work...
Thanks to the partnership with CETIC, Key Driving Competence rapidly gained commercial success. Companies such as Van Dievel Transport and SITA decided to trust them. Systems have been used for several months for monitoring and training. And the results are there! A reduction of consumption going from 3 to 7% and a reduction in vehicle damages have been measured.
From the 18th to 24th of April, the Belgian DAF distributor demonstrated the new DAF XF105 at an event organized at the "Barrages de l'Eau d'Heure" (Froidchapelle). Two trucks were equipped with this system and customers were allowed to test them and get advice from KDC trainers.