DiagnosTIC
DIAGNOSTIC - A Software Process Assessment gradual approach based on OWPL model proposing a lightweight and efficient approach to software quality.
Proposed methodology is based on a three step gradual approach:
1.- At the first stage, a very simplified questionnaire called the Micro-Evaluation is used to collect information about the current software practices in small structures and to make people sensitive to the importance of software quality aspects. This questionnaire covers six key axes selected as the most pertinent and the most prior to the targeted organizations on basis of former experience with SME evaluation. These axes are Quality assurance, Customers management, Subcontractors management, Project management, Product management, and Training and Human Resources management. The Micro-Assessment concerns one person in the evaluated organization. This person must either have sufficient knowledge of software quality matters or already be in charge of software quality.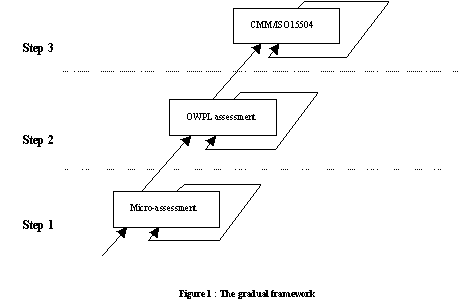 2.- The structure of OWPL model involves processes, practices and success factors. It defines 10 processes and 40 practices. The processes are the following: requirements management, project planning, project tracking and oversight, development, documentation, testing, configuration management, subcontractor's management, quality management, and experience capitalization process. Each process is decomposed into a number of practices (from 3 to 12). It is also supported by success factors. The OWPL processes are issued from SPICE-ISO/IEC15504 and CMM or CMMI ones by assemblage and simplification. Each of the above processes is assigned a general goal in accordance with the organization's defined objectives. It involves a number of practices and is supported by a number of success factors. Each practice is defined by its goal, its inputs and outputs, the resources assigned to support it and its weight. This last attribute is an indicator of the importance of the practice for the whole process improvement.
Generally the scope of an assessment is limited to three of four processes to avoid resource mobilization problems. Two or three person from each development teams are interviewed by using a structured questionnaire available for each process. The questionnaire includes several questions for each practice composing the process. Questions are open, and each of them is associated with one or more sub questions allowing the interviewer, if need be, to adjust and refine the information he gets. Collected answers are analyzed according a well defined assessment procedure. The traditional output of an OWPL assessment takes the shape of a report describing the analyzed processes, providing a SWOT analysis and recommendations that can be easily implemented by the company.
Within this context, OWPL model should be used to formalize and improve processes in a company aiming to be ISO9001:2000 certified.
3.- Companies with a medium/high quality level are eventually invited to undertake a CMMI or a SPICE-ISO/IEC15504 evaluation if this appears appropriate.
OWPL Model