Gain a clearer understanding of IT innovation in 2018 with CETIC
The CETIC can help you innovate faster and integrate new technologies from research
The CETIC has chosen to dust off the lithophany to send its best whishes for the New Year
Originally, Lithophany, from ancient Greek λίθος, líthos ("stone") and φανός, phanós ("light"), was a process used to reproduce a subject with transparency effects in porcelain or paste of glass. The engraved or molded porcelain image is very thin and translucent and can only be seen clearly backlit by a light source and in addition it changes its characteristics according to the light source behind it.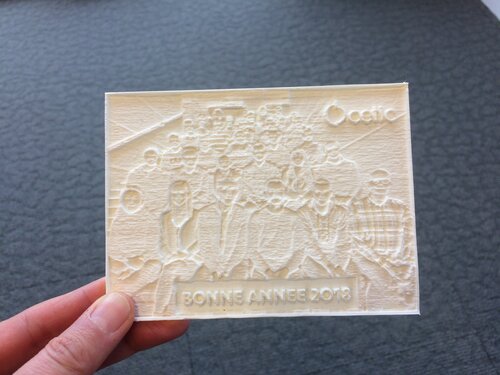 Who is able to seize the opportunity offered by this old technique?!
The CETIC is focused on software development, but is very attentive to the different applications domains, exploiting both the creativity and the pragmatism of researchers to implement innovative solutions.
We have chosen to dust off the lithophany with 3D printing to wish you a Happy New Year.