Research in Cloud Computing for Belgian SMEs.
Cloud Computing has certainly flustered one of 2009's most important buzzes on the Internet in the field of IT. Through research projects in which it takes part, CETIC has already grasped the concept of Cloud Computing long before it reached its current popularity. The first approach towards Cloud Computing made by CETIC was concerning Cloud infrastructure management. CETIC is now focusing on the architecture of applications that run on the Cloud to help Walloon companies gaining benefits from Cloud Computing.
What is Cloud Computing?
Cloud Computing is a recent trend in the IT industry who's goal is to move data and computer processing from PC desktops and laptops to larger "data centers" filled with servers. The term "Cloud Computing" is used both for naming applications delivered as a service over the Internet and to describe the infrastructure, in other words the hardware and the system softwares of data centers, which provide these services. The availability of high speed (wireless) network connections, the decrease of storage costs together with new improved software to build Cloud infrastructure (such as virtualization) or to develop applications in cloud architectures (application frameworks) have led the development of Cloud Computing. Cloud Computing allows companies to deal with peaks of IT resource needs, reduce costs and investment and try out new services at low cost. In addition, the concentration of investments in data centers allow to deploy more energy-efficient equipment.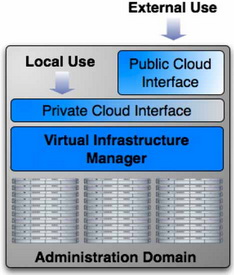 Why is CETIC involved in Cloud Computing?
Interest of CETIC for Cloud Computing began well before this evolution of IT was named. Grid Computing is a major research topic of CETIC in distributed systems. One of the goals of Grid Computing is to allocate computing resources (storage and computing power) according to users needs abstracting them of the origin of thoses resources, as it happens for electrical energy (hence the name, referring to the power grid). However this allocation is based on static, fixed, pools of available resources. Gradually the need to dynamically use external resources appeared, as well as how to achieve this goal. The European project BEinGRID, aimed at experimenting Grid technologies in the industry, is an illustration of this evolution. When the project, whose CETIC greatly contributed, began, only Grid technologies were considered. Technical evolution of Grid tools and business constraints of cost reduction and investment optimization led to put Cloud Computing at the center of the project in its end.
Cloud Computing as infrastructure management: IaaS
CETIC identifed this evolution of Grid Computing to Cloud in other research projects in which the Centre participated and adapted its research efforts accordingly. In particular, two separate research themes emerge within Cloud Computing: Cloud Virtual Infrastructure Management and development of distributed applications in a Cloud environment. Advances in virtualization software have opened the door to new ways of managing IT infrastructures. Once a virtual machine can be efficiently run on a "real" physical server, can be stopped, saved in a file and then relaunched in its previous state, it became possible to manage pools of servers in datacenters. Vendors of virtualization software began to offer virtual machine management tools while Research adapted Grid Infrastructure management software (provisioning, migration of virtual machines based on resource allocation policies, ...) to Cloud Computing. The purpose of these tools is to provide users with on demand IT infrastructure, also called IaaS (Infrastructure as a Service). CETIC filed research proposals on this topic and participates in the European FP7 RESERVOIR project on virtualized infrastructure management. At the time of project creation, the term Cloud Computing was not coined and the project name evokes the idea of being able to draw from a pool of virtualized computing resources on demand. One of the objective of the project is to allocate resources according to strategies: performance strategy (if possible, each virtual machine runs on a separate physical server), energy saving (virtual machines are grouped on the same servers allowing to power off idel ones), etc.. In the project, CETIC tests, evaluates and contributes to developement of infrastructure management tools on its own datacenter. CETIC is also making RESERVOIR results available to companies through trainings. Finally CETIC deployed virtualization on its IT infrastructure and will manage its next test and developement environment, about to be acquired, as a private Cloud Computing infrastructure.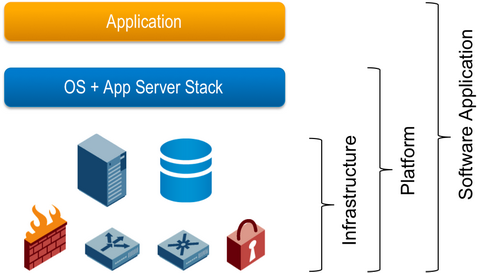 Impact of cloud computing in applications architecture: PaaS SaaSS
When a cloud computing infrastructure is set up, an efficient way to use distributed resources (processing power and storage capacity) still has to be found. Part of this problem comes from the Grid Computing area ; and CETIC uses its experience in Grid to address it. For instance, the application framework concept, that organizes the software and prevent developers from managing themselves load and data distribution, comes from the Grid world, and its adaptation to Cloud Computing is a major interest for the research community. CETIC focuses its Cloud computing research fields around the tools and processes that provide developers with a PaaS environment (or Platform as a Service), which increases usability and productivity. Research community becomes more and more interested into PaaS concept. From now on, CETIC deals with process distribution frameworks, such as Hadoop. This software has been primarily chosen by our Semantic and Search Engine team, as it is used to manage indexing process distribution of the Nutch search engine in a distributed environment. Non or semi-relational databases, able to handle huge amount of data in a Cloud infrastructure, are part of the research topics of CETIC as well. Finally, CETIC analyses how to develop and release softwares on the Cloud for SaaS (Software as a Service). Specific issues to be addressed in Cloud computing area are security, accounting and graphic user interfaces (GUI).
At the begining, CETIC became interested in Cloud computing as it was the extension of Grid computing, in terms of infrastucture management ; which consolidated our experience in that domain. The objectives of the centre are now to continue its investigations in PaaS and SaaS, so that we help Walloon businesses to make benefit of Cloud computing.
Stéphane MOUTON